We may still be on lockdown and have exhausted every box set and series out there, but here's a list of everything HRH TV is now showing on Amazon Prime around the world…
35 & LIVE
The Quireboys Rockumentary
The Quireboys are 35 years young! We join the fans, the press and the band onstage and behind the scenes as they unleash 100% of Pure Gypsy Rock n Roll Live at their Sold Out Anniversary show at the O2 Forum Kentish Town, London. A true English heritage Rock Band in their prime and not looking to stop anytime soon…
10 YEARS OF HELL
The HRH Story
Hard Rock Hell is regarded as Europe's leading residential community-fuelled festival and this story is from the heart, covering the birth of HRH to what it has spawned over the last decade. Features some classic performances and straight facts which make this Rockumentary one of a kind. As AC/DC said, It's a long way to the top if you wanna Rock n Roll…
HIGHWAY TO HELL X – 2019
Filmed in Sheffield
Reality talent TV shows are everywhere, but Highway To Hell X features real rock bands playing live with their own music, going through the paces as they battle it down to the National UK Winner for a coveted 10-year record deal worldwide. Hear it from the judges, the fans and the bands as to who will reach Hard Rock Hell's main stage…
HRH PROG
A Progumentary
We see HRH catch up with bands, fans and members of the industry to get their opinion on how the movement started, what direction it may spawn into and ultimately how it's evolved into the here and now. This journey tackles the instrumentation and compositional techniques to see what 50 years of Progressive Rock has developed into.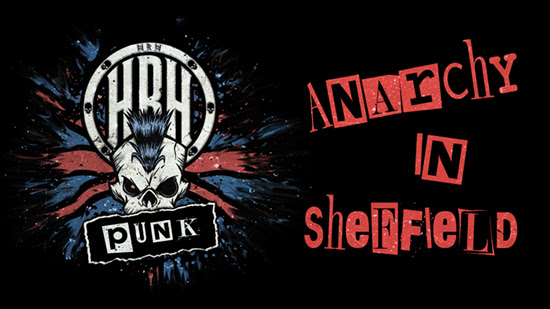 HRH PUNK
Anarchy In Sheffield
When HRH were tasked with doing an HRH Punk edition, anything and everything could have happened – and it did! For lovers of '76 Punk and beyond; join some Punk heroes Live and behind the scenes with nearly 4,000 fans who had it all at Anarchy in Sheffield, where we hear it, see it and feel it, straight from the horse's mouth.
HRH AWARDS II – 2018
Filmed in North Wales
If you've seen 10 Years Of Hell, then this is a new extension where we witness the HRH Community reward their heroes at a fully blown Rock n Roll Red Carpet Affair. This was the second edition of the HRH Awards cut down to the winners plus a few quality live performances. If you feel part of the Rock n Metal Community then find out who killed it this year-round.
HRH BLACK BOX
Pilot
Take a Live audience, some Live bands, loads of beer, monkeys, meerkats & seagulls and you've just entered the Black Box: a Live TV set of Rock n Roll weirdness and debauchery. It's probably what the world's been waiting for: a nutty news desk where you can start to feel the insanity. Remember what happens in the Box, stays in the Box!
HRH AWARDS III – 2019
Filmed in Great Yarmouth
The Rock n Roll Red Carpet gets activated once more for another night of HRH Music Industry Awards. More live performances and HRH shenanigans as we witness the third cycle of the infamous HRH Awards. If you love your Rock n Metal and didn't get the Golden Ticket from Odin himself then this will let you feel it in all its glory.