With almost prophetic accuracy, Brit rockers The Darkness managed to predict the future with their last album, Easter Is Cancelled. But it wasn't only Easter that was cancelled, as we all know too well.
When the COVID lockdown hit, the group were on tour in Australia. With the dynamically changing situation, The Darkness cancelled their tour 'down under' and headed home. At this point, they realised how serious things had become. "We changed our flight which connected through Singapore," explains drummer Rufus Taylor. "We had a good idea of how seriously that side of the world was taking it, and by the time we got back to England, with nothing in place, we were like we're going to die – everyone's going to die." But the lockdown didn't stop Rufus from being productive. "I spent pretty much the whole year trying to learn guitar," he said.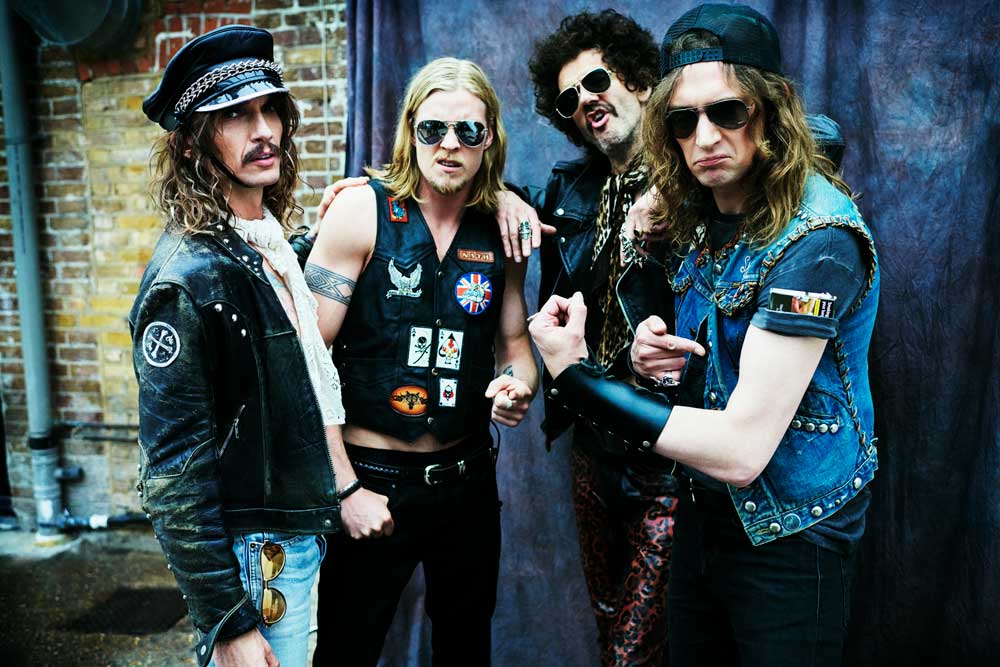 Guitar playing side, once conditions allowed it, The Darkness went into the studio to get to work on their new album Motorheart. The challenge being that with frontman Justin Hawkins situated in mainland Europe, the group had to utilise the wonders of modern technology to work on their forthcoming release. "Justin was in Switzerland, so he wasn't able to fly over. So, it was a very internationally made album," explains Taylor. "We would send over the songs once we thought they were finished. Justin just loved each and every one of them. He would give it a few days listen, and then put some lyrics on it, and then a mind-bending solo – which he is so good at, and then send them back."
The title track itself sets the scene for the whole of the album. "I just thought it was pretty out there. The sci-fi theme of it – the concept of the song is this robot lover from the future – he builds this droid. It kind of fits in with the whole album cover idea that we were having. I had a slight Barbarella type of idea, and I kind of wanted to make that happen," proclaims Rufus. With regards to the title itself, he says that: "We all decided it was the strongest word, and I know there is a band called Motorhead, but it's a different word, and it means a different thing." Likewise, with the group's new single Jussy's Girl, Rufus states that the song: "Has late '70s, early '80s kind of classic written all over it, which made us laugh as much as it did dance." Rufus goes on to explain that: "The title is obviously a nod to Rick Springfield, but it's definitely not the same song."
The Darkness will be bringing their distinctive brand of rock and roll extravagance to the road as they embark on an extensive UK tour later this year. But what can the group's fans expect from their shows this time around? "On the last tour, we did the whole album, which was quite brave, I think. So, we ended up doing two sets – literally the whole vinyl album from start to finish, in that order, then we did a different set. We're definitely not going to have that approach this time. I think it's going to be back to a mixed bag of what we think is working best right now," explains Rufus. "We did talk about how many of the new ones we're going to do, and we started at four, and at the moment, I think it's six."
Of course, Rufus Taylor comes from a musical family. His father – Queen drummer Roger Taylor, is also out on the road presently. When asked what the best advice was his dad had ever given him, Rufus said: "For music, he said, always play for the song. Never indulge, never play for yourself, and never show off. You've got nothing to prove. You're just trying to make the song sound as good as possible." On the other hand, "Business-wise, I had some mean stuff being said about me at the time, and because that situation, he just said something along the lines of don't listen. And I was like, why? He said because every **** has an opinion."
The Darkness' new album signals a return to doing what they love best. "This is an 'excited to be getting back out there again' album. It's really positive, uplifting," declares Rufus. "I just think it's a proper good rock album, full of driving songs." And if the last sentence doesn't get you excited about Motorheart, then nothing will.
Words by Adam Kennedy
The Darkness will be appearing at Hard Rock Hell 15 hopping aboard the mothership with Skid Row, Ugly Kids Joe and SO MANY MORE!
CLICK HERE TO GRAB YOUR HARD ROCK HELL 15 PASSES