Formed in London in 2000, thrashers Helgrind are about to unleash their long-awaited 4th album Insurrection, nine tracks of furious thrash metal that will delight the hearts of thrashers old and young alike. HRH Mag caught up with singer/bassist Paula Nelson for the lowdown on all the happenings in the Helgrind camp.
Helgrind have been going for 21 years now, incredibly. The thrash scene (especially in the UK) was not really in a good way back in 2000 – how did the band get together all those years back, and how hard was it to get gigs as a thrash band back then?
We were a different band and name back in 2000, more NWOBHM style.  We were about to get signed and a few members decided they didn't want to go down that path which left 3 of us.  The original guitarist Andy Hobbs came up with the name Helgrind and we decided to play more thrash, punk, death styles because of our main influences.  I was only the vocalist originally and took over bass and vocal from that moment.  Thrash shows weren't really that hard to find, it was more underground back then but we found there was a hunger for the music and played our first shows about two months after writing our first load of material.  We used a really rubbish and crude tape recording as our demo, just a small stereo on the corner of the room and blasting out the songs hahaha, it was terrible but we got shows.
The emergence of bands like Evile, and other new wave of thrash bands at the time, must have been a boon for the scene back then. What reactions were you getting from the crowds at the time and did you think that Helgrind deserved to be at the forefront of that new wave?
It was an amazing time actually, Evile being on the "Get In The Ring" TV Show really helped the thrash scene, we used to talk to Herman Li from Dragonforce a lot back then too and compare notes on what we were doing and what we should be doing.  It was a great time for the underground scene really – everyone was helping each other out.  In those days though Helgrind were like marmite, you either loved us or hated us, for some we were too brutal and aggressive. It wasn't until 2007 that people really started taking notice of us.  I personally don't like to think we should be named at the forefront of that new wave, we were just doing our thing and enjoying ourselves it's the same as now really, but these days we have to visit more countries.
You've already amassed a few albums under your bullet belts already, and now there's a new Helgrind record entitled 'Insurrection'. Obviously recording during the pandemic must've been an interesting experience but it still sounds absolutely huge. How did the writing process differ from earlier releases?
We had been working on this album since around 2014, the demos were completed in 2015 and originally recorded and ready for release in 2017.  We weren't happy with where we were, in the business end of the band the setup was all wrong and the final recording really showed that, but we were already booked to tour Europe on the back of the album and did that.  It was only when we got a break that Simon and I sat down and re-produced the album, the drums were immense and fine but the rest we felt wasn't its best.  Simon and I have our studios, so during lockdown we re-recorded the album and sent each other the parts.  Simon did the mixing and when we were happy with it (December 2020) he sent it to me to master for release.  In the meantime, we were in discussion with Metal Rocka Recordings and sorting how this was going to be released.
In terms of the writing process, it has always been the same way, I write a load of music and send a rough demo to the band.  This time was the first time I wrote with Simon and he would take my rough demos and put his spin on the idea or he would send stuff to me and I would do the same.  It was rare for us to be in the same place to write the material.
Metal Rocka Recordings very own Helgrind will be hitting the stage at the O2 Academy, Birmingham for Hammerfest 13 alongside Napalm Death who will be showcasing a very special 10th Anniversary show in their hometown, Unleashed and MANY MORE!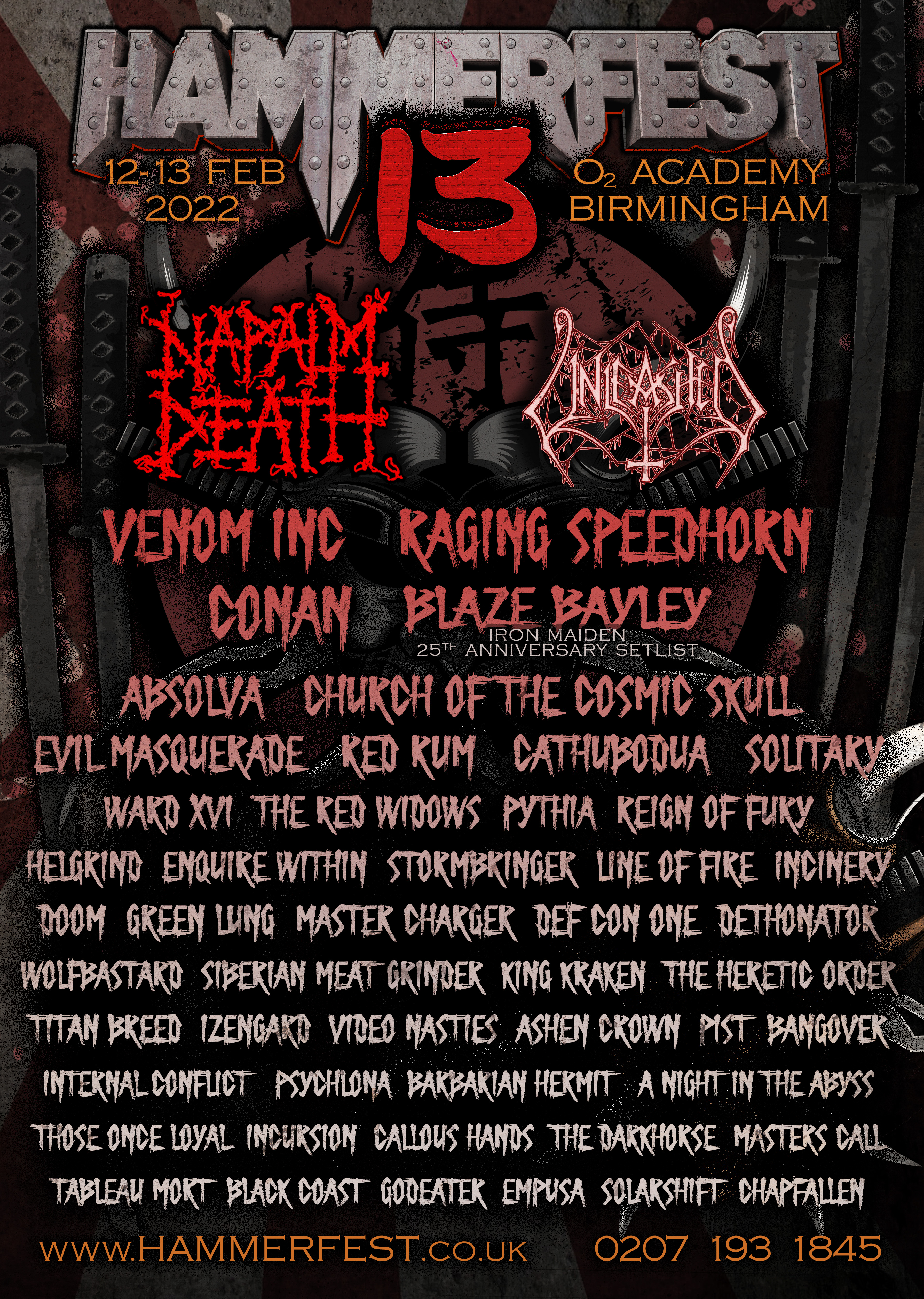 CLICK HERE TO GRAB YOUR HAMMERFEST 13 PASSES
With songs like 'Bitter End', 'Breeding Hate', 'Dead Shall Rise' and 'Massacre The Suffering' it's a fair bet that the subject matter is as heavy as the music itself. What inspired your lyrical themes?
Lyrical themes come from everywhere, films, books, news, walking down the street.  For me it's all about being in the right frame of mind to write – most of what we write is just made up stuff, nothing factual and that's important in thrash.  The music is an escape for a lot of people and you don't need someone preaching to you.  'Bitter End' is about the madness in a psychopaths mind thinking he can cleanse the world by killing people, 'Dead Shall Rise' is a mass murderer boasting about his killing and wanting to do more, 'Breeding Hate' is just about how no one is born with prejudice but it is taught and some people will never break that cycle, 'Massacre The Suffering' is about armies giving kids guns to fight wars about stuff they don't understand – I was desperately trying not to say fight wars for a religion they don't understand haha but there you have it, the world can be a little messed up!
The music itself is gloriously old-school, chaotic thrash that will attract fans of the genre old and young. What bands inspired you in the early days?
Each member brings a different influence to the band.  For me personally, I would say growing up in the '80s and watching some of the greatest thrash bands on the planet during their rise was a massive influence on me to write this style.  Motorhead, Overkill, Exodus, Slayer, Metallica, Kreator, Sabbat, Sepultura to name a few, it was an amazing time to be alive.
Post-pandemic, things seem to be reverting back to a more normal state. What plans do Helgrind have to take 'Insurrection' to the masses?
We have a UK tour set up starting January, which will be going to London, Norwich, Northampton, Middlesbrough, Nottingham, Glasgow, Newcastle, Inverness, Hastings, Reading, Bristol, Swansea and of course Hammerfest 13, opening the main stage on the 12th Feb.  We are doing everything in the underground and sticking to the regional shows, a bit like the old days of the '80s when you could see someone like Iron Maiden at your local venue.  We take a break in the summer for the festival season and then back on it from September to November.  We also go to Europe in April.
How do you currently view the UK metal scene at the moment? There seems to be a lot of very good bands bubbling away on the underground but not many bands bothering the mainstream. Is it harder for newer bands to make that step up in the scene today?
There is an incredible amount of talent in the metal scene these days, there were fewer bands when we started that were really stand out bands so it was a little easier back then.  There are changes to the industry we all need to take into account and how music fans interact with bands these days.  It's not about going to your local venue to check out bands anymore it's all about checking the social media stuff first.  It's harder in a sense these days for newer bands but only because they are against more bands, the need to categorise every band into a genre or sub-genre more and people tend to be a little social media lazy.  In Germany we had people driving 3-4hrs to come and see our show just because their friend said we were good live, in the UK it's hard to get people on a 10minute bus ride to venue for a band you're friends with.  Since lockdown and of course Brexit, fans of metal need to take more of a risk to see bands they haven't heard of.
Finally, a fantasy scenario for you – Helgrind have won an obscene amount of money and are going to curate their own festival with you headlining, of course. Which 6 other bands would you like to see join you on the bill?
The other members won't agree with me on this hahaha but I hold the cash…Testament, Exodus, Overkill, Acid Reign, Xentrix, New World Depression (German death metal band – check them out) that would be amazing actually.  A bit like Clash of the Titans in the '90s, the new generation missed these great shows!
Words by Neil 'Not' Coggins
Neil Not presents Full Metal Racket, every Sunday at 5pm on HRH Radio, and also the C60 Mixtape Show, Tuesdays at 12pm. Also occasionally he's let loose with his hard rock records to present the HRH Radio Breakfast Club!