BMAAC Live Presents Rebecca Downes – Stripped Back, Plus Support for an intimate show on Sunday 20 March 2022 at Barnoldswick Music & Arts Centre.
Rebecca Downes returns to Barnoldswick Music and Arts Centre to perform the music from her widely acclaimed 2020 album Stripped Back, an album containing ten tracks from her previous studio albums Believe and More Sinner Than Saint each reimagined and re-presented in a laid-back style, together with two previously unreleased tracks. This is the first live performance of the new arrangements of the songs and it is likely to be one of the very few opportunities to hear the tracks in this form, so it is an occasion not to be missed!
Birmingham-based Rebecca is a fully independent artist creating original blues/rock music with her co-songwriter Steve Birkett and releasing it on her own label Mad Hat Records, selling it via her own online store and other online physical and digital outlets via Cargo Records.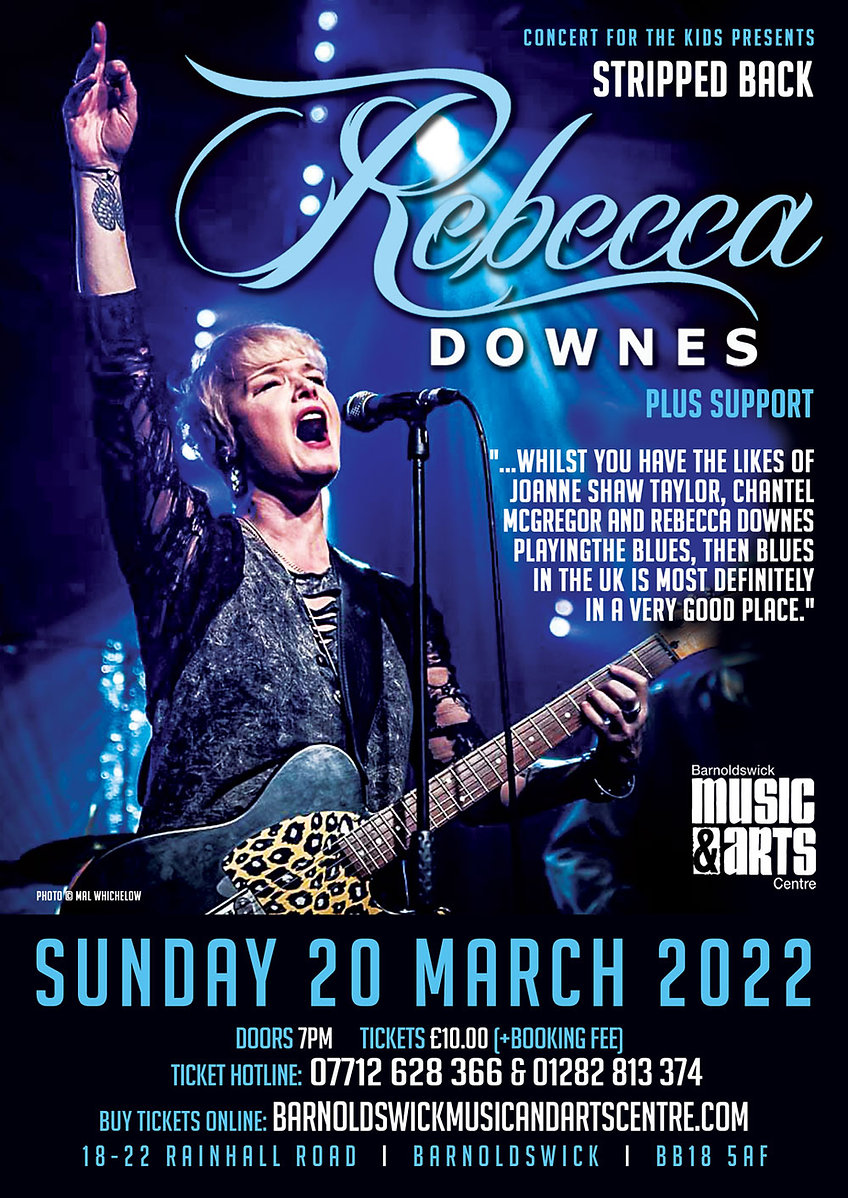 CLICK HERE TO GRAB YOUR TICKETS
This she duly got from several sources and in particular from Mark Viner Stuart of Mat Hat Studios in Coven, near Wolverhampton, whose judgement that she had exceptional talent was based on the hundreds of performers with whom he had worked. In 2011 she linked up with Steve Birkett, a long-time performer and writer of his own material, who had retired from full-time employment and had both the talent and time to create more original music. It was a partnership that 'clicked', to the intense excitement of those around the pair. Their core genre was the Blues, but right from the start they stretched their music in several different directions. Their EP Real Life was crafted in 2012 and released in early 2013 and both the recording and live performances of the tracks received an enthusiastic reception. 2012 was also the year that Rebecca left her full-time job for part-time work as a vocal tutor so that she had more time to work with Steve. With more input from Mark and a galaxy of musicians, mostly from the area around Rebecca's new Birmingham base, the album Back To The Start was recorded, hitting the shelves in 2013, once again to acclaim from critics and fans alike.
This blues goddess will be performing alongside Bernie Marsden, The Quireboys, Wilko Johnson and MANY more at HRH Blues VI in April 2022.
CLICK HERE TO GRAB HRH BLUES VI PASSES
In their live performances, Rebecca and her band elevated the album tracks to a new level. The set was interspersed with benchmark cover tracks such as Another Piece Of My Heart but it was mainly about the original songs with leading tracks from the album Back To The Start such as Basement Of My Heart, Messed Up and Laughter From Her Room at the heart of it. And audiences calling for an encore would usually see With A Little Help From My Friends, delivered with raucous confidence that would make the late Joe Cocker beam.