By Order of the Gypsy Fookin Pistoleros! UK Headline Tour begins with the release of a new very Special Blinding Single!
The Renegade Flamenco Rock Rumba Punk 'n' Roll pioneers Gypsy Pistoleros released the brand new single 'The Ballad of Tommy Shelby' (Good, Mad & Beautiful) on October 13th, 2022, on Off Yer Rocka Records to an amazing response. It includes a most amazing, not to be missed special guest vocal contribution from Tommy Shelby himself.
Their Peaky Blinders' spoof Video has proved a great success with over 215,000 + views in 10 days so far! 
Recorded, mixed and produced by fast-rising legend Dave Draper (The Wildhearts, Kerbdog, Terrorvision, The Professionals) at The Old Cider Press Studios, Pershore. Draper is also set to record the full new album 'Duende a Go Go Go!'  in the Winter of 2022 which is set for release in 2023. The new album promises to be an edgier, punkier and heavier side of Gypsy Pistoleros, whilst retaining their fiery flamenco, rumba passion, with their distinctive crossover of punk rock 'n' roll leanings. Order Single on link below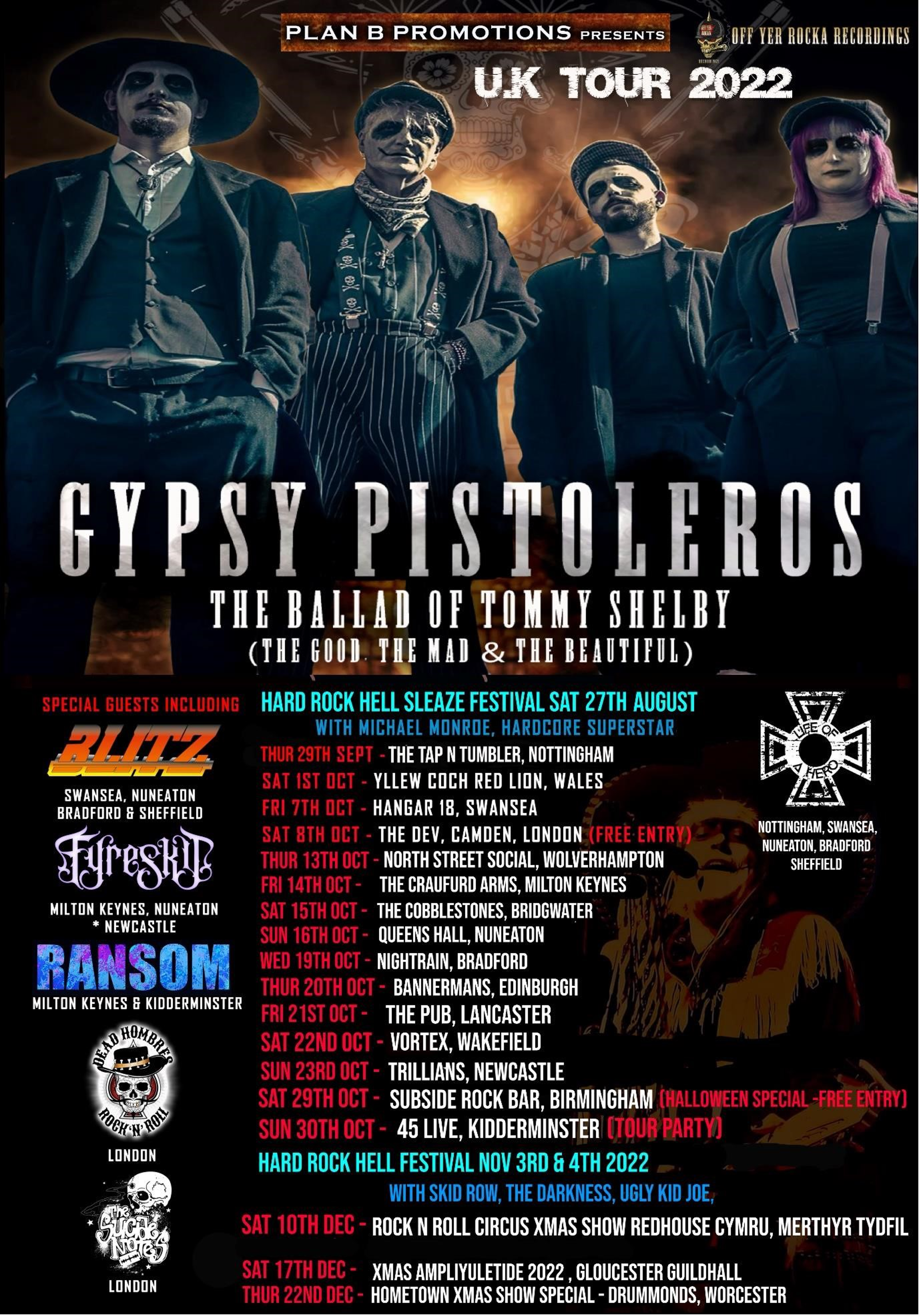 Gypsy Pistoleros are just finishing a successful U.K headline 'The Good, The Mad & The Beautiful 2022 Tour' throughout October which accompanied the single release. They will play Hard Rock Hell Festival 2022 at The Darkness after show party (Thursday 3rd Nov) & main stage Friday 4th Nov with Girlschool & the Magnificent SKID ROW! amongst others. Tickets – 
http://www.gypsypistoleros.com/gigs.html