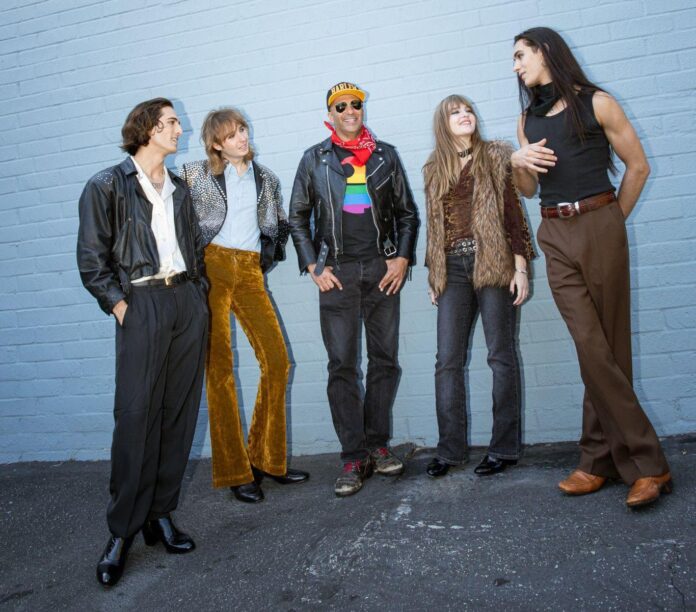 Today, globally dominating rock band Måneskin have released their new single 'Gossip' featuring the legendary Tom Morello of Rage Against The Machine, Audioslave, Bruce Springsteen And The E Street Band and more. Listen HERE.
Fierce with a rapid, infectious and hammering guitar hook, Måneskin's latest offering continues to reaffirm their status as a genuine force in rock'n'roll. The single is taken from their upcoming album RUSH! Set for release on January 20. The album is available to pre-order/save HERE.
Discussing working with Tom Morello on the forthcoming new single, the band say:
"Tom Morello's enormous experience allowed us to take cues on how to work on tracks without overthinking. We can't thank him enough for joining us on this track. It's an honour for the whole band!" – Damiano
"He brought some Rage to Måneskin!" – Ethan
"Tom is one of the greatest musicians that I've always listened to and learned from. Playing with him is a dream come true. It's an enormous gift and a personal highlight of this incredible year" – Thomas
"The song originated from a riff which Thomas had written some time ago and which we had been holding onto for a long time which we kept developing. Then the icon Tom Morello joined and brought something extra to the classic uptempo Måneskin cheerfulness." – Vic
Tom Morello goes on to say "When I heard that there was a rock and roll band from Italy that was blowing up around the world I was like "Really? Come on". Then when I saw them play live I was blown away. They are unapologetically loud, unapologetically sexy, and unapologetically ROCKING and deserve to be one of the standard bearers for rock and roll for a younger generation. I got to jam with them at their studio in Hollywood, it's a great band, they all play great, they write great songs, they connect with their audience in a deep and meaningful way, and if you've seen them play live the crowd goes OFF! It looks a lot like some of the big bands of the '90s".
Produced mainly by Max Martin and Fabrizio Ferraguzzo, the album was recorded in LA, Italy and Tokyo and features previously released singles 'Supermodel' with its Californian sound and infectious modern rock grooves, the incredible 'Mammamia', and most recently, 'The Loneliest', an ode to classic old-school rock ballads with its roaring vocals and electrifying guitar solos that are tinged with elegant delicacy.
RUSH! tracklisting
1 Own My Mind
2 Gossip Feat. Tom Morello
3 Timezone
4 Bla Bla Bla
5 Baby Said
6 Gasoline
7 Feel
8 Don't Wanna Sleep
9 Kool Kids
10 If Not For You
11 Read Your Diary
12 Mark Chapman
13 La Fine
14 Il Dono Della Vita
15 Mammamia
16 Supermodel
17 The Loneliest