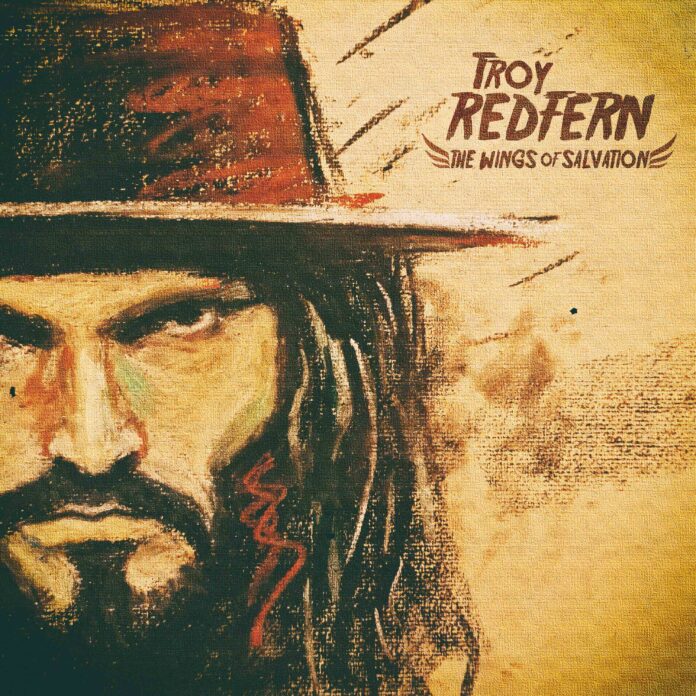 Picture the scene, Stoke Sugarmill, as Troy Redfern supports The Quireboys, November 2021. The quietly spoken guitarist steps from behind his merch desk to emerge onstage like a whip-thin Clint Eastwood. He gives the sold-out venue an icy glare and riffs straight into set opener 'Scorpio' from his album The Fire Cosmic. Fast forward to 2022, and that energy flows through his brand new studio album, Wings of Salvation. Very aptly titled, to say the least!
Redfern's work rate is astonishing. This is his sixth studio album in two years, and it was written in just under five weeks! Due for release on September 23rd via Red 7 Records, it opens with verve as 'Gasoline' highlights his spotlight-stealing slide guitar work. Troy's vocals pull no punches either, delivered with a throaty rasp.
Other highlights (and there are many) include the Stones like hip shaker 'Sweet Carolina'. The song's hefty grooves rock hard and heavy, punctuated by fretboard-burning solos. 'Come On' – the first single taken from the album is true grit as a lung stripping vocal careers towards massive choruses and virtuoso solos.
'Navajo' is a triumph! A song to get totally lost into as it portrays the struggle of their 1864 Long Walk of that nation. Musically it captures the scene that unfolded way back then. A pause for breath comes from 'Mercy', a poignant song that ebbs and flows until it's grabbed by the scruff of the neck by an outrageous guitar solo.
The heaviest song comes from 'Profane'. A fist fight in the car park bruiser that pulls no punches due to the fast and furious country and western vibes. The slowest song is album closer, 'Heart and Soul', which lives up to its title for a heavy-hearted number that defies you not to shed a tear.
Words by Dennis Jarman